A calendar serves as a powerful tool that keeps one's schedules organised at one place which allows one to manage well, worry less and achieve the most. Google calendar remains one of the most impressive and modern online apps to improve one's time management. An organised man, is definitely a successful man. And yes success does come handy, with your Google calendar which keeps you focused on efficient work management. If you are anything like me, using your calendar is an essential part of staying organized and on time for life.
Let's just not use it, start getting to use it to the fullest with these basic yet important to know features:
To-do list, in your inbox:
If you are the kind that refreshes their inbox at the rate they blink their eye, then have your everyday schedules delivered straight to your inbox via e-mail.
To set it up, find the gear icon on the home screen of the calendar, click and find settings which is to be followed by clicking the calendars tab at the top of the screen.
 Upon finding the highlighted link "Reminders and notifications" next to the calendar you want, click on it.
The following page will enable you to see an option labelled as "Daily Agenda", at the bottom and clicking the checkbox alongside would enable you to receive a list of your daily appointments, everyday.
SMS on-the go:
The charm of the internet lets you have your alerts from the Google Calendar reach you via text message too. IFTTT (If this Then That) is a tiny yet mighty service that allows you to connect various internet and mobile service together. Explore this trick, sign up for IFTTT and enable the Calendar SMS recipe. This recipe is a combination of 2 channels, using a "Trigger" and an "Action". They are like set of codes that decide which trigger will bring out the actions.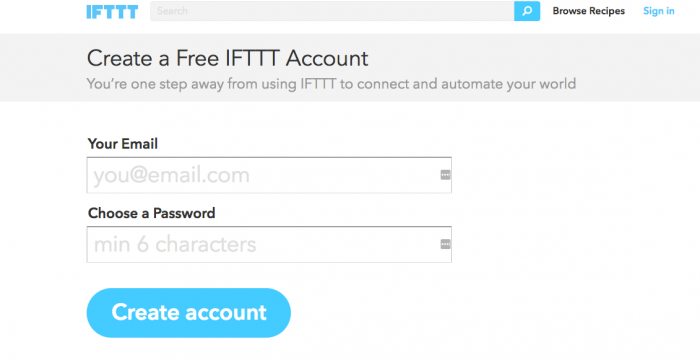 If anything happens on one channel, an action will be triggered. Go for it and stay connected.
Offline Access:
Don't let the connectivity issues come in your way of accomplishing your tasks. Your internet wants to take a break? Do not be worried. You won't have to miss on your important schedules. From an elevator or a no Wi-Fi zone, have the convenience to access your calendar at all times.
While working on your google chrome browser, being online open Google Calendar.
Install the Google Calendar extension for your chrome from the Web store
select the Offline option upon clicking at the gear icon.
In order to confirm your settings, open Google Calendar, followed by settings. Look for a green circle with checked mark. It signifies that all your schedules are now accessible always, even in an offline mode.
Fingers-free: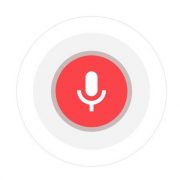 Google Voice Search is a brilliant feature offered by all Google Services. Calendar, tap on the microphone icon displayed on your device's screen. Say something, say anything and book your appointment reminder. Rest your fingers and let your voice commands do the work.
Fun Times:
Google Calendars do make your work life easy but no-one said who can't employ them for your leisure. A movie junkie? Import the movie release schedule to your google calendar. Sports fan? Simply click on the sports option in the Interesting Calendars option, select your favorite game, select your favorite team and it will import the game schedule for your team into your very own Calendar.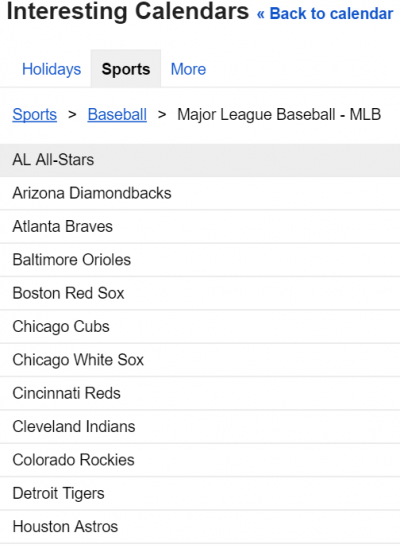 It's time to move on from the big yawn days to being hooked to our calendars. Follow Boost2Business for some of the legendary tips exploring exclusive features google calendar has to offer to increase your productivity.
Let us know what you think of these and many more exciting ones that you discover while exploring this amazing app. Share your feedback and leave your thoughts as comments below!
Setting up Google Accounts for Businesses is what we at Boost2Business always recommend to our customers. Backing up and storing data on an external drive (or cloud) is the safest way of preventing any data loss and sharing data easily with your coworkers and external collaborators.
Whether you are a regular Gmail User or you have an Enterprise Account, here are a few master tricks on how to utilize the Google Drive feature.
Browse Offline in Google Drive
Start your Google Drive settings by opening the front page of Drive.
In order to enable Google Drive to work offline, click on the Settings in the top right corner and on the General tab tick the box marked Sync Google Docs, Sheets, Slides & Drawings files to this computer so that you can edit offline. Google Drive begins caching recent Docs, Sheets, Slides and Drawings to your computer. On the plus side, if your Internet is down,  you can finally get that report done without any distractions in the local café.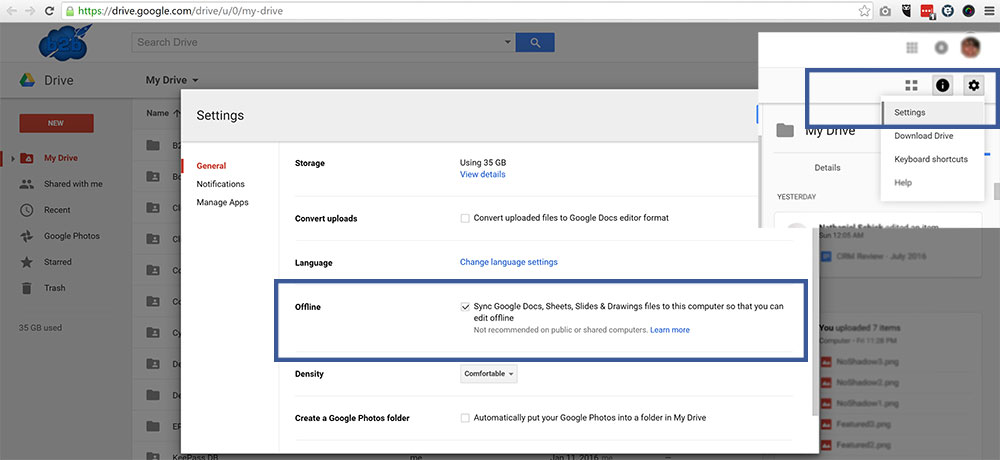 Search inside PDFs and Images Stored on the Google Drive
Google Drive will scan through the text in PDFs and images and find that brochure or flyer for you easily.

You can even extract text to a certain extent if you open up the image with Google Docs. Right-click on a PDF or image, then choose Open with and Google Docs.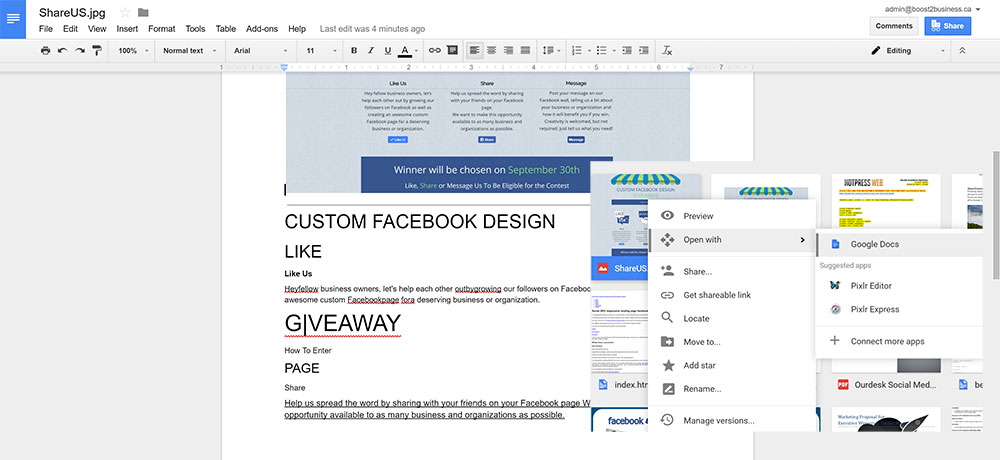 Use Google Drive Advanced Search Features
Search by document types, specific keywords, dates, location, owners, etc…
Needless to say, Google knows a bit of something about fast searching, so we suggest you utilize this options.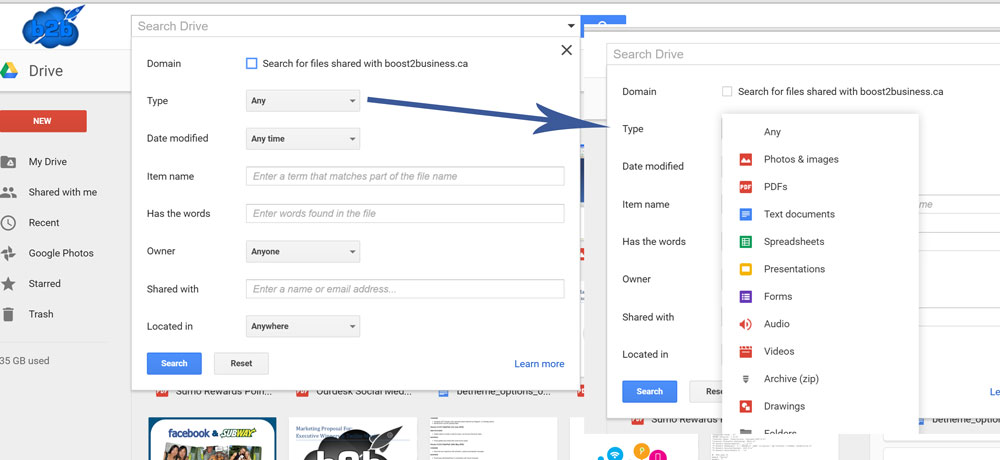 Manage Files' Versions
Google Drive stores older versions of your files just in case you update something by mistake or someone overwrites your version. For a native Drive file (Google Docs,Google Sheets), open it and choose File then See revision history; for any other type of file, right-click on it in the document list and pick Manage versions. The pop-up menu to the side of each version lets you download, delete, and permanently keep files past the standard 30-day window.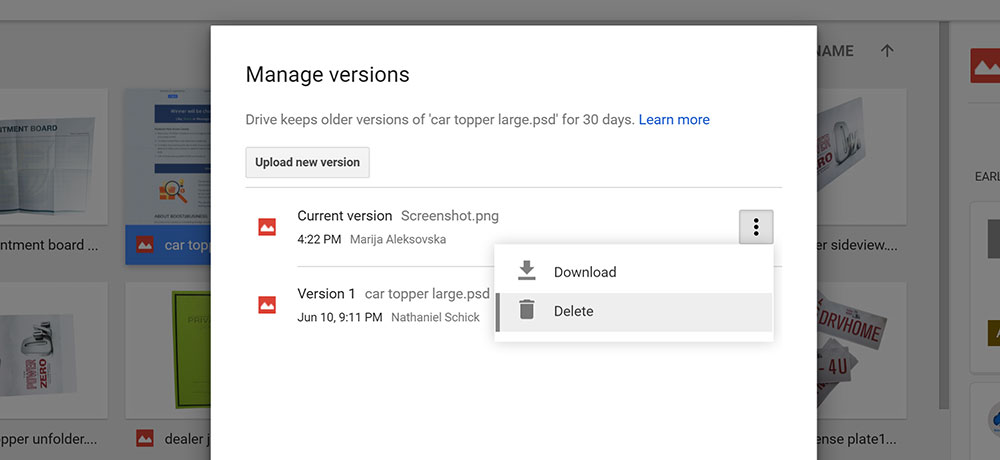 Sort The Biggest Files In your Google Drive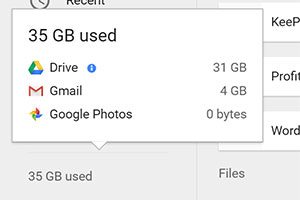 Use this link to sort your files by file size, or click the link on the left that tells you how much space you're using, then click the small Drive entry. This is especially useful if you want to make some space on your Drive.
[av_hr class='invisible' height='20' shadow='no-shadow' position='center' custom_border='av-border-thin' custom_width='50px' custom_border_color='' custom_margin_top='30px' custom_margin_bottom='30px' icon_select='yes' custom_icon_color='' icon='ue808' font='entypo-fontello' av_uid='av-2e8qrv']
Sync to and from the Desktop
Install the Google Drive desktop client for Mac or Windows and you get access to all of your files on your local computer too (you can pick and choose which folders get synced). Not only does it make it super simple to upload folders and files (simply copy them into the Drive folder), it also gives you offline access to any of your files you might need on the go—and changes are automatically synced back to the cloud when you get back online.
If one of your new year' resolutions was to be more productive and organized on your work place, we might have a few hacks for you. In the next article we will show you how to customize your Gmail account to serve you the best.
Setting Up Multiple Inboxes
How many tabs have you got open in this moment on your browser? How about getting rid of all the other apps like Yahoo, Hotmail, even Outlook, and have all your emails sent to your Gmail Account.
If you want to enable this feature
Go to your Gmail Settings located on the top right on your screen
Then choose Settings  from the menu
Press the Labs tab
Enable the Multiple Inboxes Labs feature
After you enable this feature, go to the Accounts tab and start adding your other email accounts.

Setting Up Colored Labels for Your Messages
Now that you have a full inbox of unread messages, imagine how convenient it would be if you could make collections of email messages that are related to each other automatically. For example you might want to label emails that are coming from your different email accounts, or divide your emails into "Finished" and "Pending" labels...
If you want to make your inbox colorful and organized follow the simple steps below. In the next section we will show you how to automate your email labeling for improved efficiency.
Go to your Gmail Settings located on the top right on your screen
Then choose Settings from the menu
Press the Labels tab and scroll down to the Labels section
Add labels by clicking on the "Create New Label" button
You can preview your newly created labels on the left sidebar and change their colors from there

Filtering your messages
The Gmail Filter feature gives you the options to filter your incoming email messages into different categories, labels or folders. You can sent an auto-reply, mark them as read and even delete them right away. There are thousands of possibilities that you can create with filters. Learning how to use filters properly in gmail will greatly increase your productivity and workflow.
Setting up a filter for your incoming email messages can be done in a few easy steps:
Go to your Gmail Settings located on the top right on your screen
Then choose Settings from the menu
Press the Filters tab
Add filter by clicking on the "Create a new filter" button

Step1 - Choose criteria by which a filter should be applied (who is the email from, who is it for, if it contains specific words…). Then press the "Create filter with this search" link.
Step2 - Apply the action that should be taken for that specific filter (labeling, forwarding to another email, deleting, auto replying….)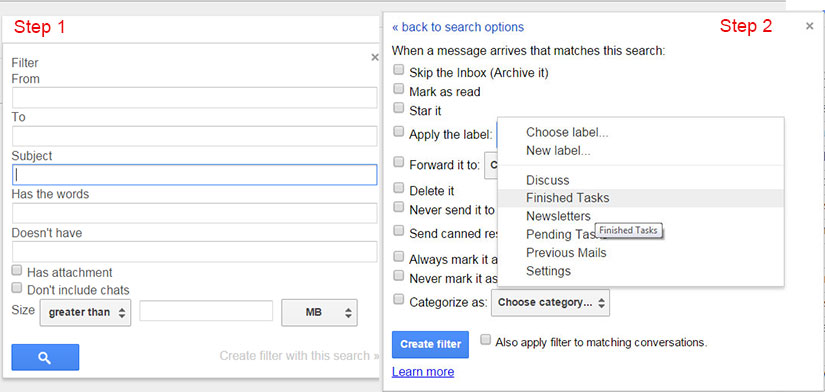 Alternatively, you can create filters directly from your inbox by selecting the message(s) that you want to apply a filter too and choosing "Filter messages like these" from the More drop down menu. Once selected follow steps 1 & 2 above to complete creation of your filter.
Prefer a video version of the instructions? Watch the video below.
Gmail Labs are experimental, pre-release features that you can use to enable key business functionalities to your Inbox. To enable Gmail Labs to your account, you can go to a Labs tab in your Gmail Settings and turn on the Labs you want to use.
To enable Gmail Labs :
Sign in to your GMail Account
Click Settings
Select Labs from the list of links below the page title.
Select the radio button Enable, beside the GMail Lab you want to use.
Click Save changes
Since the recent security lock down of Internet Explorer (IE) (read more here), here is an advice to all those people who still may actually be using IE.  You shouldn't use Internet Explorer for the following reasons:
You can find the reasons explained in the link below.
Reason #1 - IE is broken beyond repair. Literally there is no solution.
Reason #2 - You are safer from targeted software viruses.
Reason #3 - Microsoft is a little slow.
Reason #4 - IE interprets code differently.
Reason #5 - No automatic updates.
Reason #6 - No synchronization.
Reason #7 - No compatibility
https://www.linkedin.com/today/post/article/20140429144402-54592984-7-reasons-not-to-use-internet-explorer-ever-ever-again?trk=tod-home-art-list-large_0
Did you know that you can open a link in a new tab by middle-clicking on the link with your mouse? Or, open all bookmarks in a folder at once by middle-clicking on the folder in your bookmarks bar ? That wheel in the middle of your mouse is good for more than just scrolling—in fact, the button can do quite a bit. Your middle-click mouse button—also known as your scroll wheel—can be an effective tab management tool in both Chrome and Firefox. Your browser—whether it's Firefox, Chrome, or even Internet Explorer—makes better use of the middle mouse button than anything else.
If you're on a laptop and don't have a middle mouse button, you can probably still perform many of these actions. Many laptops will simulate a middle click if you press the left and right buttons simultaneously, or you can add that ability with a program like AutoHotkey. Of course, most of these things are easily accessible from other places, too—they're just a bit quicker if you have a middle mouse button.
You'll also notice a lack of Mac shortcuts below—likely because Mac mice don't usually have a middle mouse button. You can add in a gesture with an app like MiddleClick for the browser shortcuts, if you so choose.
Find out the oft-ignored shortcuts built in to the middle mouse button. Check all the tricks you can do with a middle click on you mouse on the following link.
http://lifehacker.com/the-many-things-you-can-do-with-a-middle-click-on-your-1565756062
The most influential people on the social network LikedIn, were asked to share their secrets to success and productivity. They all contributed with their stories, creating inspiration for many followers.  Querying trough these articles, we discovered that every story has it's own uniqueness and every strategy stands out in different way. What got our attention the most, are the following quotations from various entrepreneurs and CEO's. This article is follow up to Productivity Hacks.    (more…)
Did you lost track of time, doing something, but got stuck in a rut?
If you feel tired and lost in your work schedule, forcing yourself to continue working under massive pressure can lead to no good... it's time for you to take a break from work and avoid getting an eye strain.
When you spend a lot of time in front of your computer your eyelids get tired and dry, a headache starts rumbling inside your skull, and your ability to focus on your work starts to evaporate. These effects, research shows, lead to a drop in productivity.
To learn how to avoid getting eye strain at work, take a peek at  this article - 10 Tricks To Defeat Eye Strain At Work.
http://www.businessinsider.com/tricks-to-defeat-eye-strain-at-work
Since "Learning is a treasure that will follow its owner everywhere" , here are a few productivity hacks to being more productive, which LinkedIn Influencers shared with their followers.
T. Boone Pickens recommends that a good, old-fashioned conversation can make you more productive. It's important to know what people are hearing, reading, and thinking.
"Talking generates ideas, and it makes companies – and individuals – grow. People are not shy about expressing opinions. We enjoy being with each other. All of this reinforces our strengths. Although our goal is to reach an agreement among the group, I'm the decision-maker, if I have to be. More often than not, I don't have to be."